Doors are Closed!
Join the Wait List for Next Enrollment!

We hate spam too. Unsubscribe at any time.
What if there was a membership community filled with creatives just
like you and an expert guide (that would be me),
that made learning and mastering the tech easy and fun so you can spend
more time focused on your art passion?


You found it!
Imagine never having to spend countless hours on YouTube again,
trying to figure out the tech!


It's possible and I have the solution! 



  

 Introducing Maker's Tech U! 




With Tech-Savvy Artist, Roben-Marie Smith 

 


Does This Sound Like You?

• The tech is completely overwhelming.
• I want direction on where to start.
• Figuring it out on my own is a giant time suck.
• I need community and support from others with similar goals.
• I'd love to work with a fellow creative who "gets" me.
• I'd love to get organized and need a plan.
• Hiring someone to do everything is outside my budget.


Sometimes the hardest part is knowing where to start, right?
Maker's Tech U is Right for You if...
✓You feel overwhelmed by technology.
✓ You don't know where to start.
✓ You value the experience of someone who has been where you are.
✓Your time is precious and having a resource to save you time is valuable.
✓You want answers to your questions, but don't have time or want to spend hours searching for them yourself.
✓You want to connect with other artists and makers who share your experience.


Say hello to the Maker's Tech U Success Path! Follow my step-by-step process and you will increase your skill set and gain confidence in your tech abilities along the way. Each step builds upon the last, bolstering your knowledge of technology, social media and branding. These vital subjects will assist you in crafting your story, creating a business, online presence and building your brand!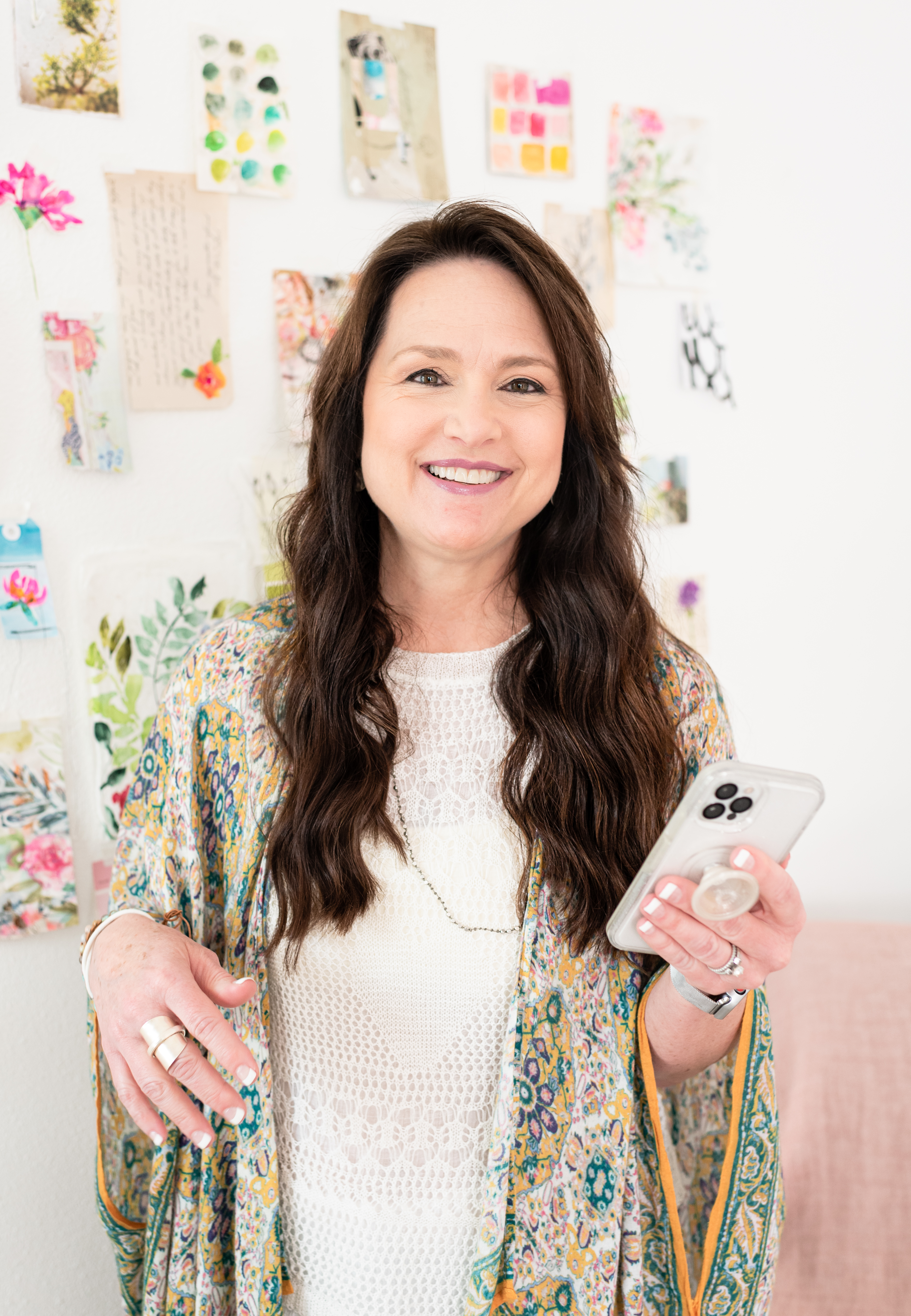 All that you will

gain

...
Learn my tips and tricks for getting organized and being productive.

Compose an effective Instagram bio; create and share stories; prepare a video for IGTV and learn to organize a time-saving posting schedule.

Learn how to shape the story of who you are as a creative; gain a clearer understanding of your purpose and motivation; define your ideal customer/audience; and create a beautiful branding mood board.

Learn the basics of the Squarespace platform and create and launch a beautiful website you'll be proud of.

Create and open your online shop in Squarespace.


Create a blog to showcase your expertise and art and set up a method for organizing your post ideas.

Learn to scan your artwork like a pro; create stunning graphics for all social media platforms and create beautiful PDFs.


Create digital and printable products from your art.

Learn how to use my favorite software and apps

Setup an account so you can begin growing your list; gain an understanding of how to create and send emails; setup a freebie to encourage signups to your list; and create a "welcome sequence" for your new signups.
Learn about filming equipment and tools;  tips and tricks for lighting and filming like a pro and using the editing apps and software I use.
Learn Pinterest basics so you can begin driving traffic to your website and shop.
AND SO MUCH MORE!
Hey! I'm

Roben-Mar

i

e

- your Tech Guide

!
As a tech-savvy artist, instructor and woman of faith, my mission is to serve you and help you get the most out of your art as a hobby, or as a business.

I created Maker's Tech U after 16+ years of running my own businesses online and having many artists reach out to me for tech help. It was a natural transition for me to offer my services to artists and makers who just need a life line to help them navigate on their journey.
Think of me as your Creative Tech Team!
Whether you are dreaming of reshaping your skill set with art workshops or developing an online home that reflects your uniqueness as a creative, no one will understand you better than a fellow artist like me.
My goal is to encourage, educate and empower you!



Go From Inept to Empowered with


My Comprehensive Squarespace Training!
I'm the person tech-challenged artists and makers turn to when they want to reach their dream of creating a website they can be proud of while simultaneously gaining the confidence to maintain it!

Instead of going it alone with the standard 14 day trial of Squarespace, as a Maker's Tech U member you get a six month trial - plenty of time to create your website! 

Plus, I can be hands on if you need me! 
Win! Win!
Tips for Creating Your Mood Board Training and workbook.
Creating Your Website in Squarespace: Goal Setting Workbook
Creating Your Website in Squarespace: Step-by-Step Design Workbook

These are Some of the Software & Apps I Teach


You choose the ones you want to learn!



Happy Members are Saying...
I Get It, Because I've Been There!


• When I was ready to take the next step in my creative journey, I had to spend hours learning the tech side of things.
• I struggled to find help that was geared toward a creative like me.
• I dreamed of one place that I could go to ask questions and get support.
• I needed quick, bit-sized video tutorials that I could watch on my schedule.
• I needed that "life line" of knowing someone was there to answer my questions.
• It was lonely out here on my own.


Let ME be Your Creative Tech Team!
No more guessing about where to start!

I developed a success path to share my knowledge and experience with you. Follow the step-by-step plan and you will increase your skill set and gain confidence in your tech abilities along the way.

Each step builds upon the last, bolstering your knowledge of technology, social media, branding and more!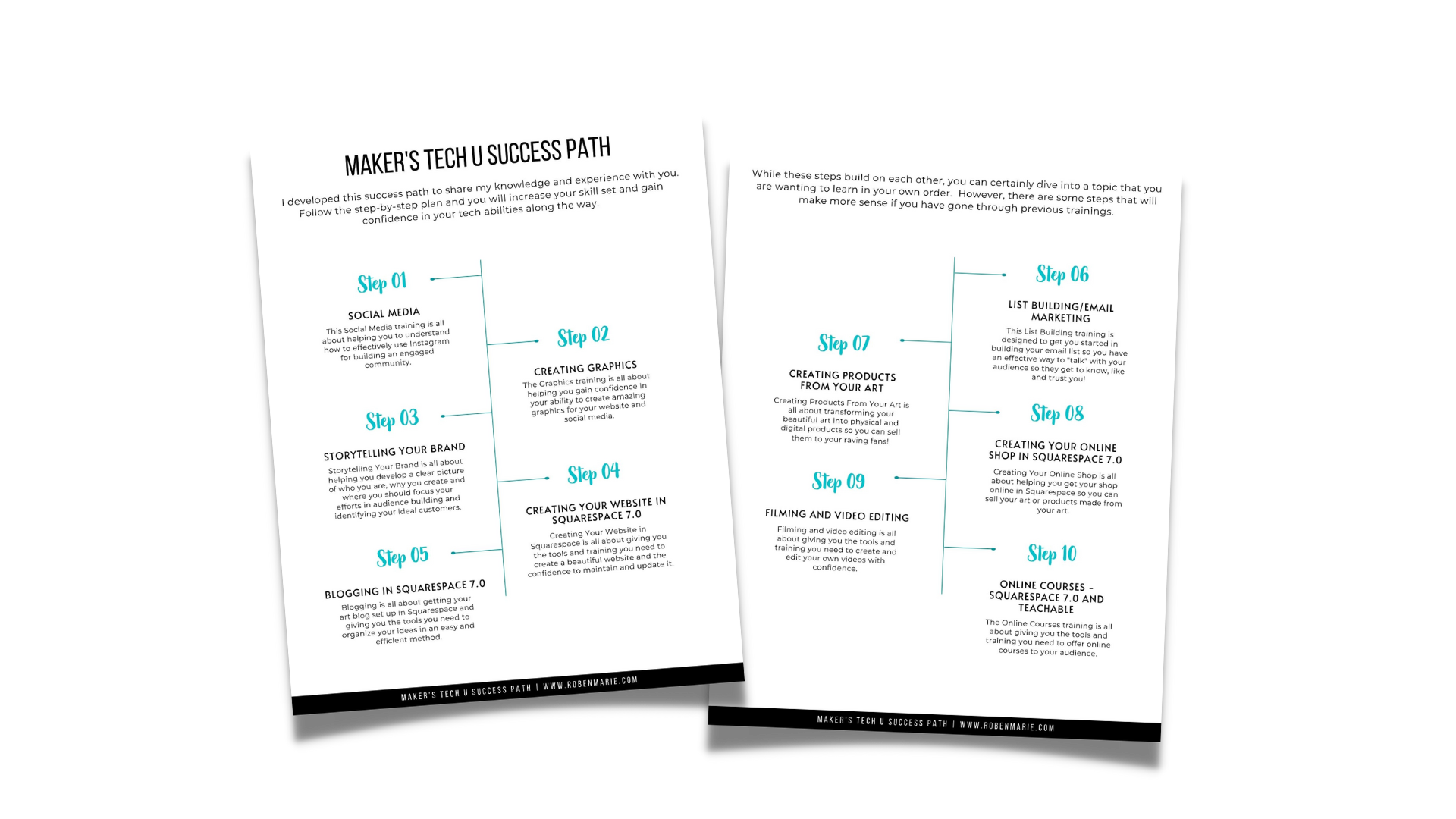 Frequently Asked Questions
"Roben-Marie offers step-by-step ways to navigate the challenging technology of creating and managing an online presence, She turns overwhelm into something manageable." -Pati Fisher

"If you are an artist and struggle with technology, like I do, Maker's Tech U is a lifesaver! It is super helpful and informative!!"
-Kristin Peterson


This program is OUTSTANDING!!! Beyond what I could have ever expected. Thank you! -Jodi Deering

"Oh my goodness, I never thought I'd say it, but you're making me fall in love with technology." -Sara Corren


"PEOPLE; no joke!  I am getting so much techie stuff done and done correctly and beautifully because of MTU! -Beth Chien

"Thank you again Roben-Marie!!!!!! I super appreciate your professionalism. What fantastic work ethic you model! This has been yet another benefit to being part of what you have created with your services through MTU. Truly refreshing and inspiring." -Penney Mellen

"MTU is amazing & such great help! You get tips on so much more than just building a website. Roben-Marie makes it a breeze and if you're struggling with anything she's always there to help!" -Denise Lush

"MTU is a game changer! There is so much tech stuff out there that I know would help me, but I just don't have time to research it all and, frankly, don't know where to start."  -Kelly Warren


"This is the best money I've spent on any training/workshop/class for knowledge, tips and ideas. Maker's Tech U is what I was looking for!"
-Amelia Woodbridge

"Thanks for your great program, calm demeanor, humor, and kindness. It all comes thru loud and clear in the trainings. You are a gift to makers everywhere!" -Liz Dvorak

"I have sincere admiration and appreciation for your success and the way you give of yourself to your students! You have a way of individually reaching out in such a supportive way" -Marilyn Hardcastle


"Investing in yourself is the best investment you will ever make. It will not only improve your life, it will improve the lives of all those around you."
~ Robin Sharma